Premier Bathroom Remodeling Houston Texas
Are You Considering A Premier Bathroom Remodel?
This Is A Great Place To Get Started!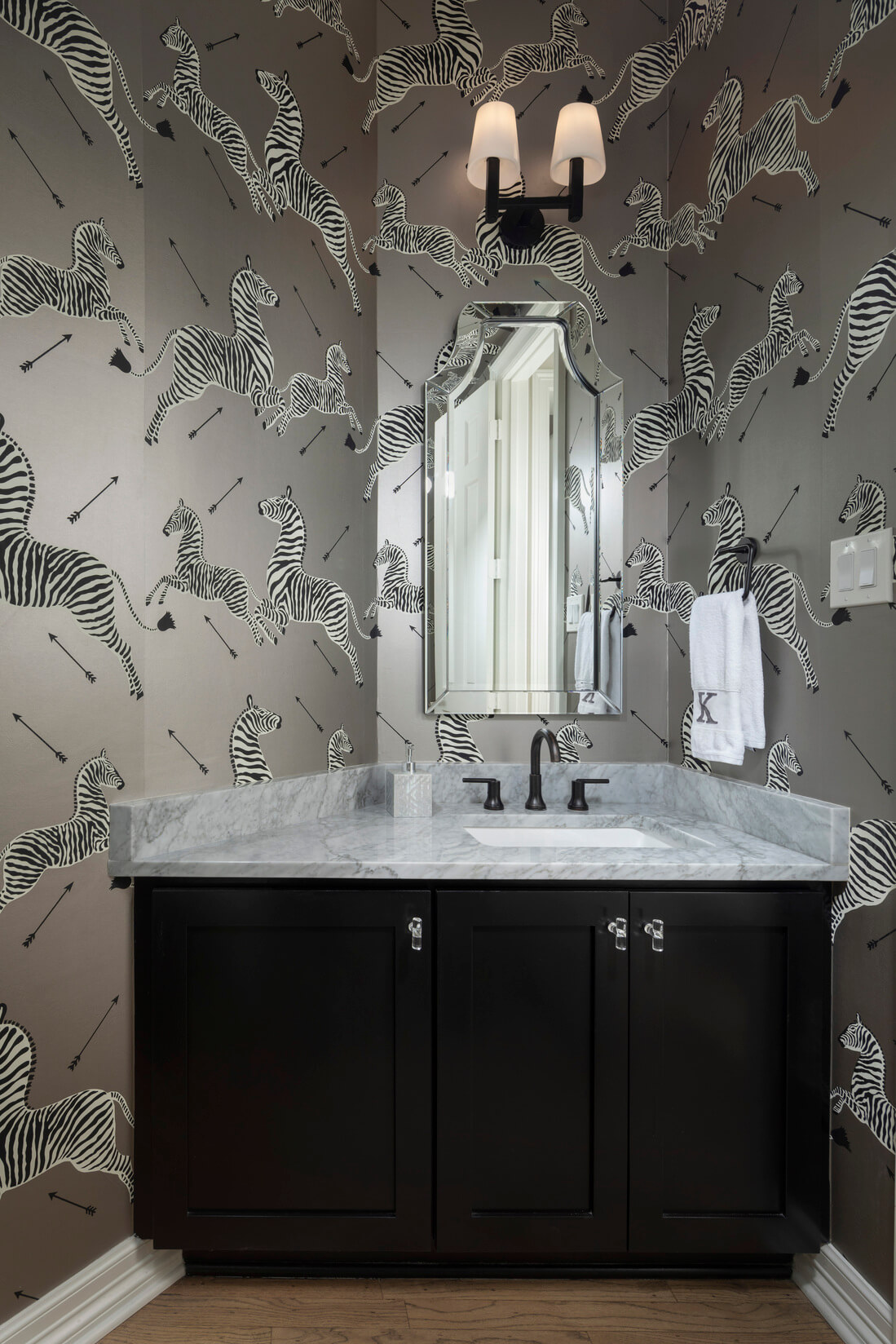 Renovate and Rejuvenate Your Primary Bath With Sneller Custom Homes and Remodeling!
If the kitchen is the home's gathering place, then the primary bathroom in the owner's suite is the retreat. It is the place where you start your day and the place where you end your day. As such, your bathroom should be a relaxing place, a space that offers calm and tranquility. Relaxation contributes to our mental health. Our lives are fast-paced and more stressful than ever before. With a spa-like bathroom designed by Sneller, premier luxury bathroom remodeler near Houston, you are sure to have that warm and welcoming space to take refuge. The growing emphasis on self-care has made the primary bathroom an increasingly significant space in the home.
Questions That May Be Prompting You To Consider Bathroom Remodeling Services.
Even the largest primary or guest bathroom can be problematic when it comes to functionality. Are the shower and sink fixtures in your bathroom of ideal scale and proportion, or does your oversized bathtub dominate the space? Is there insufficient storage? Does your current plumbing provide ideal water pressure? Is the style of your cabinetry mismatched with light fixtures? Is there adequate ventilation to reduce the effects of humidity?
How Sneller Bathroom Remodelers Houston TX Can Improve Functionality
Beautiful bathroom countertops, elegant fixtures, a custom shower, and modern hardware is lovely to behold. But to transform and remodel your current bathroom into a harmonious space where you can unwind and recharge, functionality is also of utmost importance. The professional designers at Sneller pride themselves on their problem-solving abilities. In a bathroom, you are generally working with a smaller space, so it's important to consider the larger items involved in the remodel first.
The designers will consider the layout, and how it is, or potentially is not, working well for you.
Perhaps you have a large, jetted bathtub, but rarely use it. Removing the bathtub and expanding the existing shower may be an ideal solution for you. Many bathrooms only offer storage in cabinets and drawers located under the sinks. Sneller will identify solutions to maximize current storage, or to relocate storage spaces so that items are more easily accessed.
It may be essential to rethink the overall layout when considering the ideal ways to move through and interact with the space.
Sneller will consider the existing infrastructure and identify ways to work with or modify current plumbing points. If yours is a small bathroom, and the obstacle is an overall lack of space, perhaps building a room addition, or acquiring extra square footage from an adjacent room is the key.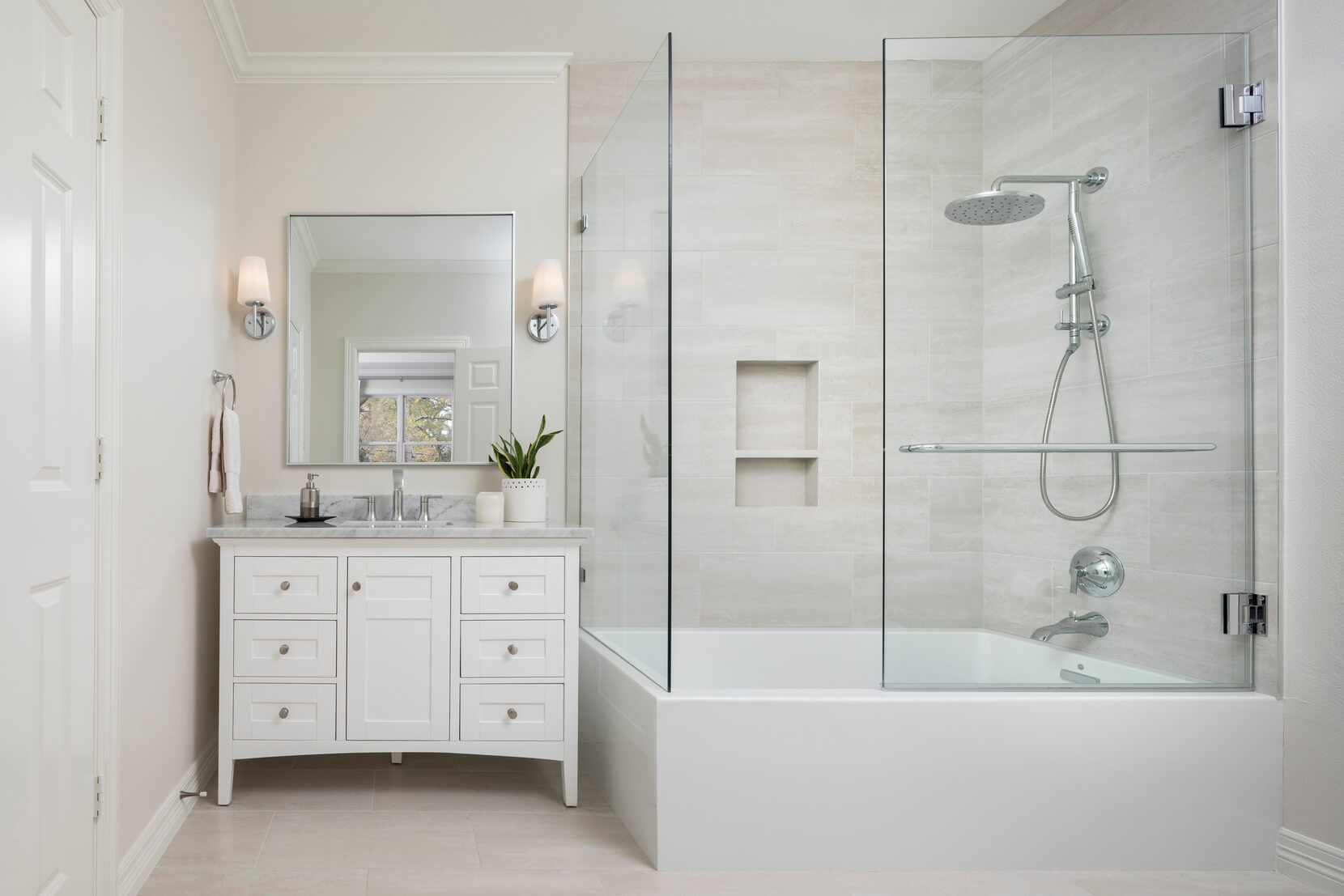 Now That You Have Function, Let Your Houston Bathroom Remodeling Contractor Focus on Beauty
Bathroom Remodeling Houston - So Many Possibilities
Houston based bathroom remodelers at Sneller are experts at designing functional bathroom layouts. Once those remodel solutions are identified, it's time to add the finishes. These design choices are the details that will create a master bathroom space that you'll appreciate day-in and day-out, and for many years to come.
Select Your Materials and Color-Scheme
When selecting materials for the shower remodel, you have a myriad of options. Porcelain or ceramic tiles are classic choices. They are easy to clean and come in a wide range of colors or patterns. Glass tiles are another option for your remodel. They reflect light, making your shower appear larger and adding a sense of additional dimension. Natural stone which includes marble, slate, granite, and travertine can make your shower last a lifetime if properly cared for. Beyond the choices of tile and stone selected for your shower replacement, you can customize the finish and installation patterns to your individual taste.
Let There Be Light
Bathroom and vanity lighting has the power to beautify the room and create a warm environment. Strategic location of the lighting can dramatically impact the overall ambiance of your bathroom retreat. An ideal balance of mood lighting to imbue tranquility and task lighting to facilitate those morning and evening routines is key. Capitalizing on natural light with windows also adds the benefit of ventilation. A brighter space gives the appearance of a larger area. Incorporating dimmers allows you to adjust the lighting to your mood and frame of mind. The bathroom remodeling design team at Sneller will help you think out-of-the-box, considering your aesthetic preferences, and incorporating other considerations such as energy usage.
Hardware Solutions Don't Have to Be Hard
With so many types of bathroom hardware: sink and shower faucets, towel bars, drawer pulls, knobs, etc., the selection process can be a lot of fun. The goal is to choose fixtures that will enhance your overall decor. Whether you prefer traditional curved lines or more geometric modern styles, the bathroom hardware can be the finishing touch that creates a cohesive design. There are a variety of metals available in hardware selections. Hammered copper is a unique fixture choice and is also naturally antimicrobial, therefore resistant to mold and mildew. Antique brass is another option that does not corrode easily. While stainless steel lacks the antimicrobial feature of copper and brass, it can be an ideal finish in a contemporary bath. Nickel is also a popular choice and is available in brushed, polished, or satin finish. Polished chrome will reflect light nicely and easily matches most color palettes.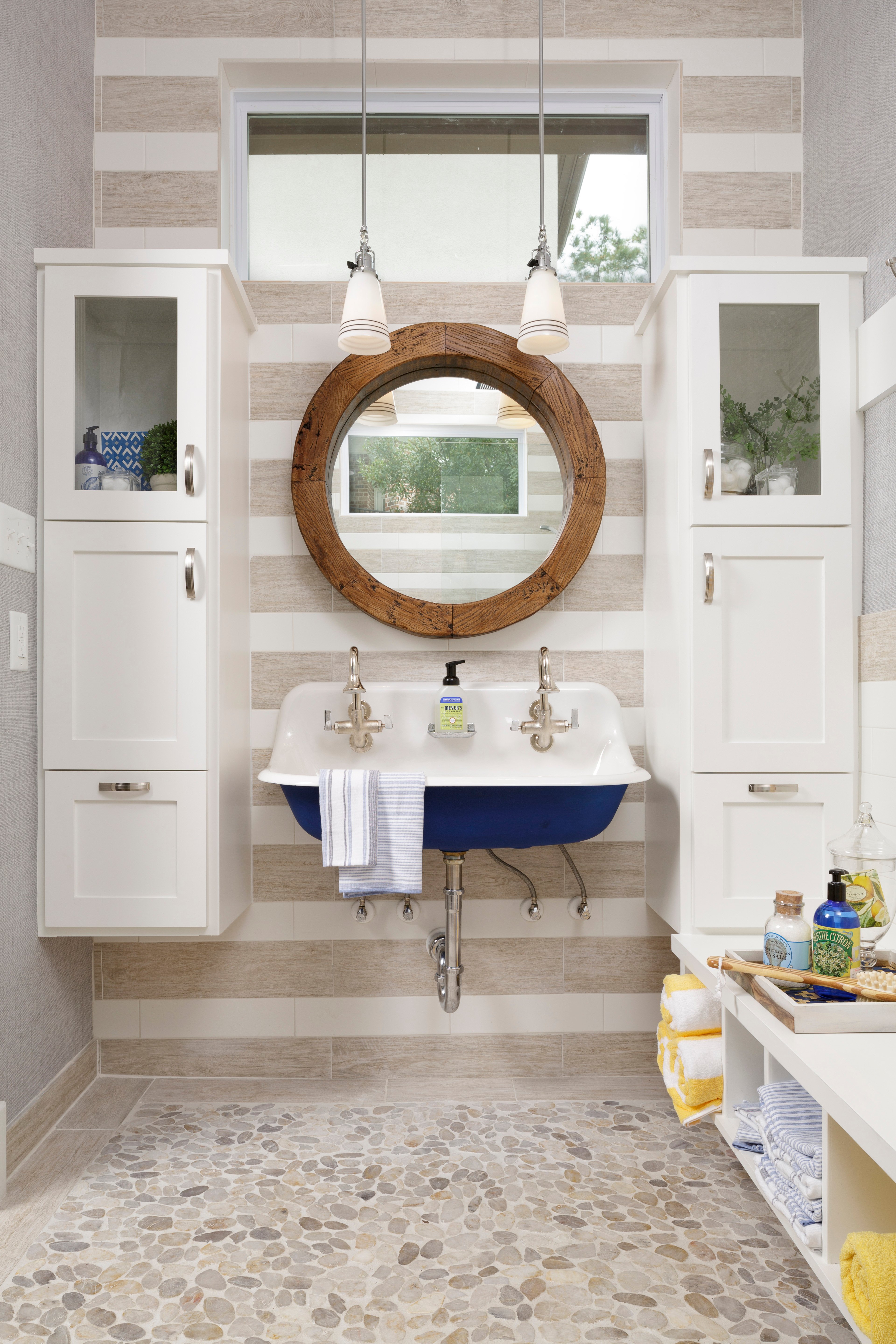 Cabinets, Walls, And Floors in Your New Bathroom
The beauty of your dream bathroom doesn't stop with shower design, lighting, and hardware. The bathroom remodeling design choices of your cabinets, walls, and floors are equally as critical to the overall look of your daily retreat.
Once you and your design team at Sneller have determined where your cabinets, vanity, and shelves will be located, it's time to decide how they will look. If your bathroom is to have depth, you'll want to choose materials and colors that will complement your other selections.
For example, if the stone selected for the bathroom countertops is a dynamic statement piece, then the cabinet design choices should not distract the eye.
Beyond typical cabinet styles, cabinets and the bathroom vanity are getting legs modeled after more traditional furniture pieces. Large and spacious bathrooms might even accommodate cabinets as an island in the center. Open shelving is also a storage option and allows you to display artwork in the bathroom, bringing more elegance and refinery into your personal refuge.
No longer are wallpaper or paint your only options for your bathroom makeover.
While these wall covering options remain classic choices for good reasons, bathroom wall decor has come a long way. Consider geometric wall tiles as a backsplash. Create an accent wall with planks. Murals, wainscoting, and even brick are unconventional, Avant Garde approaches to wall design. Flooring selection for most areas of the house are based on personal style alone. When it comes to choosing the best flooring for your bathroom, however, you'll want to consider both style and performance. Bathroom floors get wet - a lot. Water can ruin the wrong flooring choice.
Porcelain tile, ceramic tile, and natural stone are ideal choices for bathroom flooring.
Each of these options stands up well to moisture, with porcelain being the most waterproof. While each can be quite cold underfoot, even in the mild and temperate Houston climate, this can be remedied by adding radiant or heated tiles. Sneller's bathroom remodelers in Houston understand this. This is why there is a wide variety of tile shapes and sizes: square, rectangular, hexagonal, and octagonal. Mosaic patterns can be created using smaller tiles. While tile and natural stone can be slippery, using texture can mitigate this. If you have your heart set on a wooden floor, understand that exposure to even small amounts of moisture will, over time, damage the wood. The good news is that there are tile and stone options that mimic the look of real wood.
Experience Our Versatility
Your Bathroom Remodeling Houston TX Experience Starts With An Office Visit
Sneller Custom Homes are the bathroom remodelers Houston homeowners have come to trust and revere for their stunning design and professionalism. As with any adventure in Houston remodeling with Sneller, the journey begins with a visit to the Customer Experience Center located in our Spring, TX headquarters.
Whether your need is a kitchen, bathroom, bedroom, or whole-house renovation, you will begin by meeting with an experienced Sneller team member.
Sneller will become familiar with your individual circumstances. How many people will use the bathroom? What are your daily routines? What do you need to store? What about your current bath tub or shower is working well for you, and what is not?
You will walk through the Experience Center, browsing possibilities, letting ideas flow.
After becoming familiar with your individual needs, style, and overall scope of the project, your Sneller designer will provide a "ballpark" or "rough estimate" free-of-charge, and without commitment.
The Staff at Sneller Has Your Back
Your Sneller kitchen remodeling contractor will familiarize themselves with your individual needs and desires. The goal is to guide you through the design and remodel process with exceptional professionalism and know-how that will create a sense of comfort and relief from start to outstanding finish. At this visit, based on the vision and budget outlined, a "ballpark" or "rough estimate" of your kitchen remodeling cost is given free-of-charge.
The Next Steps To Begin Your Houston Bathroom Remodeling Adventure
After the initial visit to the Experience Center, area residents can begin the next steps in their Houston bathroom remodeling journey by setting up a time for a team member to visit your home. The designer will walk through your bathroom space and adjoining areas, taking measurements and using a virtual 3D camera to capture the current space.
The images obtained are then uploaded to design software which creates a rendering.
The space is then drawn on paper for the purpose of analyzing the current dimensions to identify problems with layout and functionality, and to explore bathroom renovation possibilities. At this time, more specific suggestions and recommendations are made based on the data collected. Incorporating your personal style and design preferences, 3D renderings are generated, and will include options for color-schemes, countertops, tiles, and finishes. At this phase, detailed pricing for your bathroom remodeling project is prepared based on construction and design choices.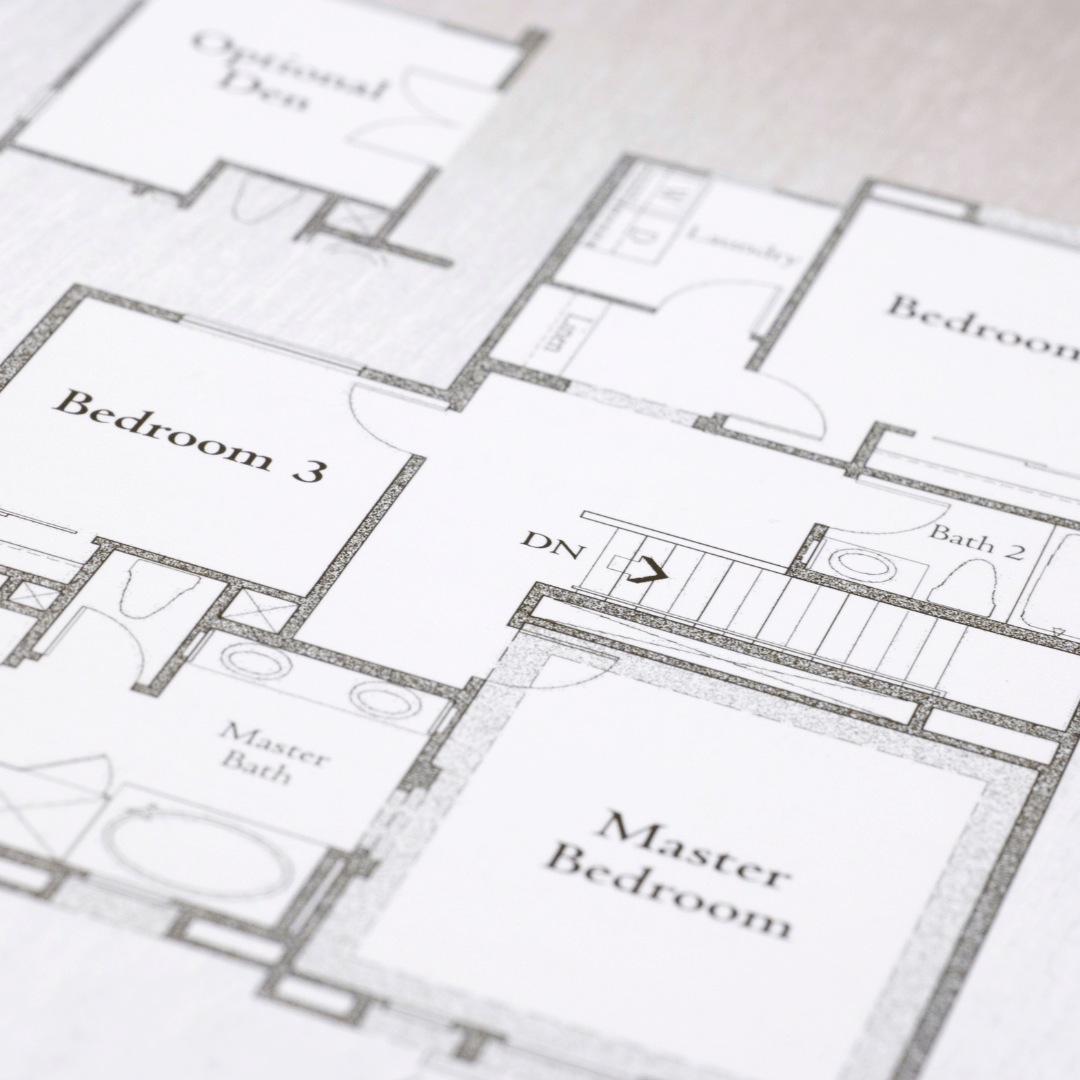 The Best in Their Field Will Now Gather For Your Bathroom Remodel
Houston, the surrounding area, and the statewide remodeling industry is teeming with the best and brightest in their respective areas of design, engineering, and construction.
Sneller believes in assembling a team of experts to collaborate and create the renovation of your dreams.
Sneller's Selections Coordinator will serve as your general contractor, bringing together architects, interior designers, carpenters, engineers, plumbers, and more, each selected to match the homeowners style and goals.
The Coordinator will act as the initial liaison among the clients, designer, architect, project estimator, project director, office support, and more. This gives you that point of contact who has access to all team members involved in the home renovation process.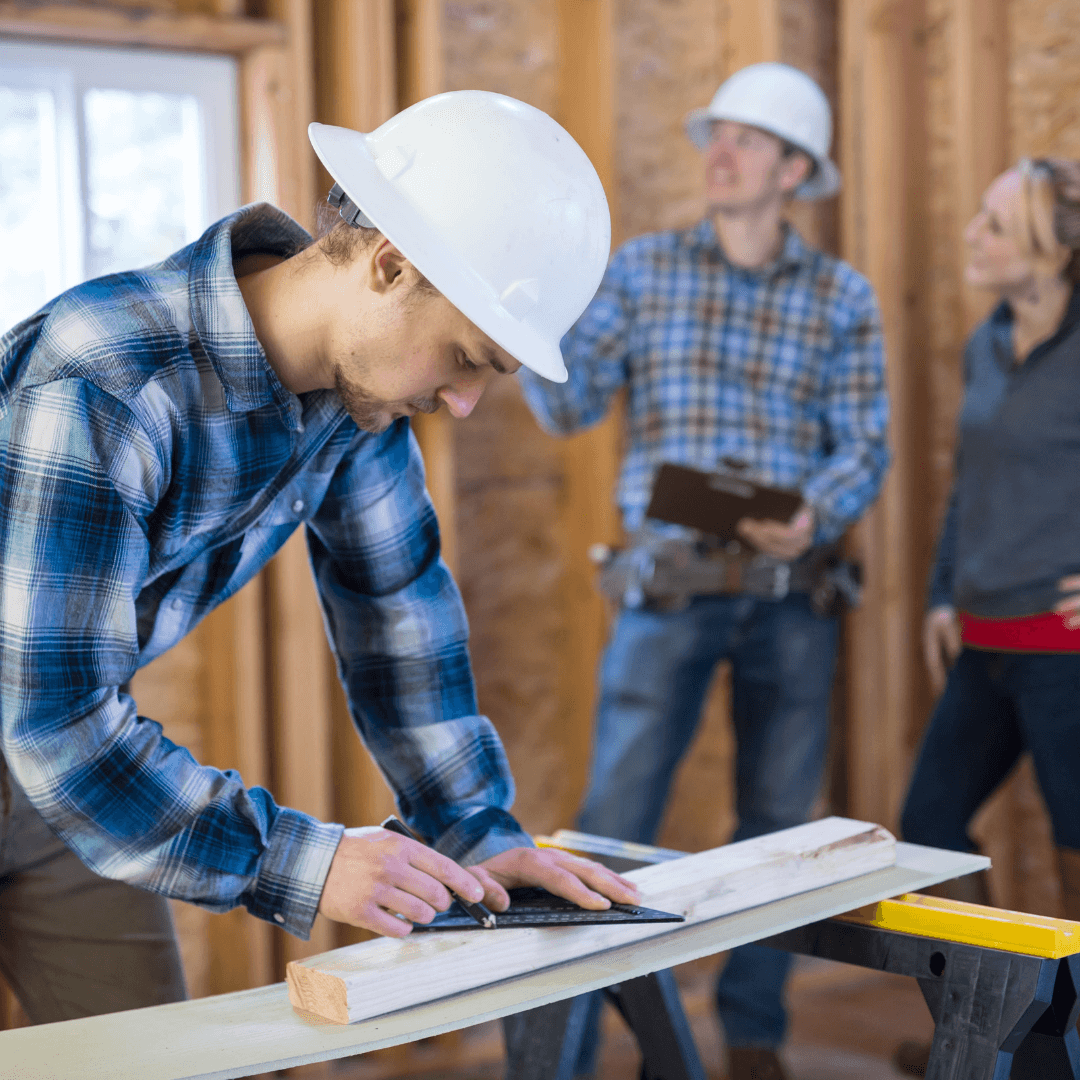 Let Your Master Bathroom Remodel Begin, With The Latest in Technology To Guide The Way

Buildertrend
Sneller utilizes Buildertrend®, a software communication tool that tracks everything related to the remodeling project from beginning to end. After simply downloading the Buildertrend® app to your device, you will be able to log in at any time to obtain current information regarding your custom bathroom.
Step By Step
From accessing pictures of the project and notifications of delivery of materials to viewing daily logs from the Project Manager, you will have the most up-to-date information about your remodel at all times. The Project Manager will continually convey details about what aspects of the remodel are scheduled for that day (demolitions, tile delivery, shower conversion, cabinet installations, painting, plumbing work, etc.).
Transparent Process
Budget and payment information are also available through the app. This is one additional layer of professionalism and transparency that you can expect from Sneller and their team of experts.
Sneller and associates would be honored to guide you through your bathroom design and construction, bringing your dreams and ideas to fruition.
Let's Get Started On Your Bathroom Remodel Today!
Sneller Custom Homes would be proud to be your bathroom remodeling company of choice and guide you through your bathroom design and construction, helping you to create that place of sanctuary and well-being that you deserve. If you are in Houston or the surrounding area, let us help bring your dream bathroom remodel to life.
Sneller are not only bathroom contractors. Our design services also include kitchen remodeling, master bedroom remodel, and closet renovations. Reimagine and design any space in your Houston area home with your expert contractor at Sneller home remodeling.
Click this link to get started with your whole-house, kitchen, bedroom, or bathroom remodel