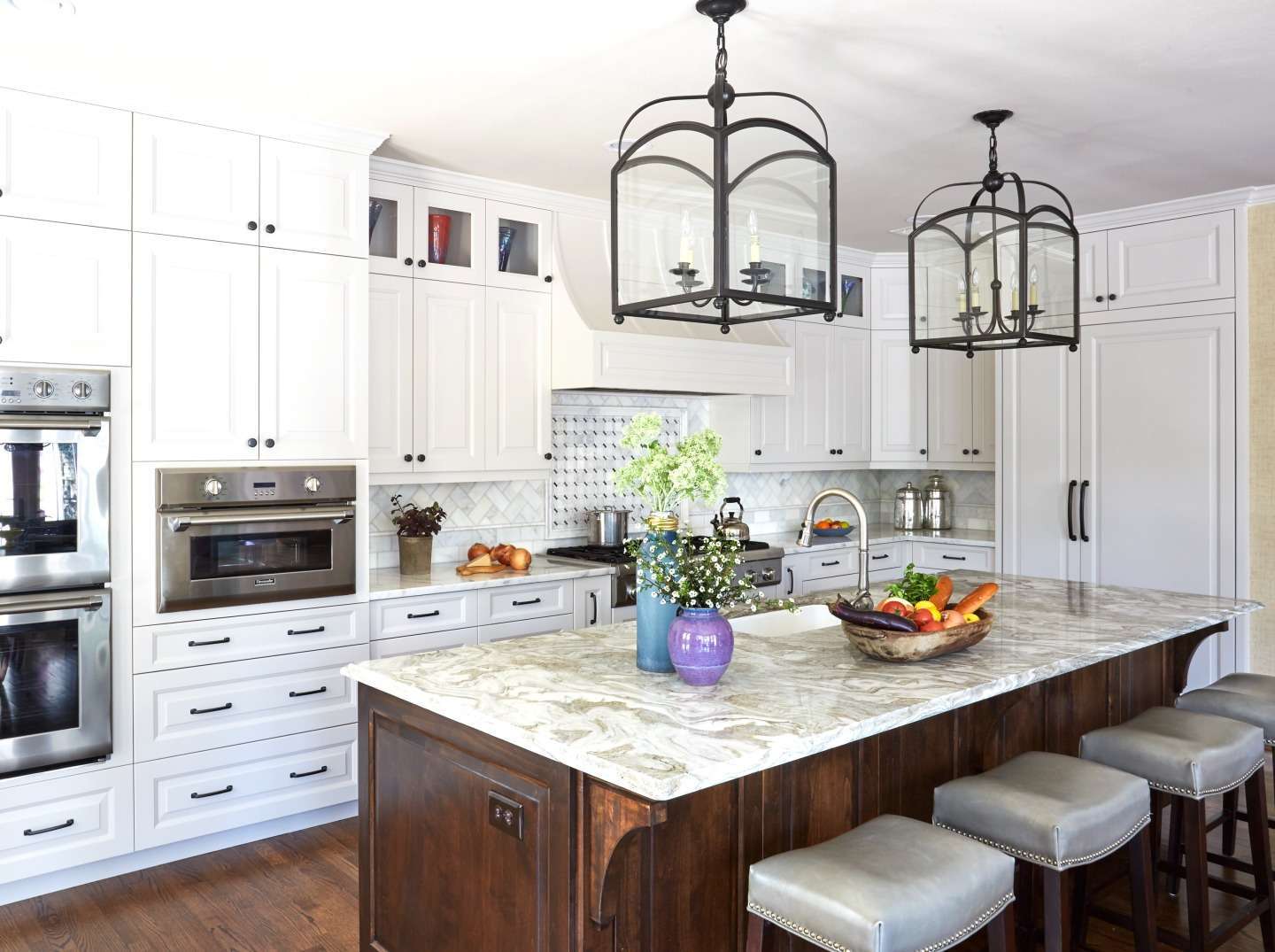 Is a Professional Interior Designer worth the cost? How hard could it be to choose a few tiles and bath fixtures, right? Let me tell you a story about a couple we'll call Ben and Nora, who embarked on a bathroom remodel without a Designer...
Nora had always loved design, so as their primary bathroom remodel approached, she decided to save the money that a Designer would charge, thinking she could use that money towards something else. Their Builder, Bob, had encouraged them to talk with a couple of Designers to reconsider, but Nora insisted this would be no big deal. She loved visiting Round Top and other design markets and had never had any trouble making decisions about furniture and paint colors.
The project kicked off with demo day and Nora beamed at the progress all morning as the cabinets and flooring were ripped out and thrown to the curb. It already looked so much bigger! Around noon, her phone lit up. Bob was calling.
"Hi Nora!" he said enthusiastically. "Can you send me your plumbing fixture selections for the bathroom? I'll need to know asap so we put the correct valve in the shower."
Nora was caught off guard. She thought she was on track, already having chosen her tile weeks ago. She didn't think they'd need her plumbing fixtures until the end.
In a panic, she cancelled her plans for the following day, and drove all over town trying to find the plumbing fixtures that would resemble the ones she found on Pinterest. Relieved that she found what she wanted, she walked in the door and pulled out a glass and a bottle of wine. Before she could sit down, her phone started buzzing. It was Bob. What now? she thought to herself.
"Nora, I have bad news. The showroom you went to today just called to let me know your selections are on backorder for several weeks. We can't wait. I'm really sorry, but I'll need you to go pick something else."
Nora cleared her schedule yet again the following day and made the rounds to showrooms, finding her second favorite fixtures. Before she left, she had the sales lady verify before she left that it was indeed in stock. Ben arrived home from work that Friday afternoon, expecting to find Nora waiting for their usual Friday night date to their favorite tex-mex restaurant. Instead, he found her exhausted on the couch, eating raw cookie dough and watching Jeopardy.
"What happened to you today?" Ben asked. "Are you sick?"
Nora explained the whole day's fiasco, and Ben decided not to remind his wife that it all could have been avoided if she'd just hired a Designer. Instead, he ordered take out, and he watched a movie while Nora dozed off on his shoulder.
Things seemed to be going smoothly for a few weeks until it came time for tile. Nora wasn't worried. She'd made her tile selections weeks ago and all the tile was ordered and sitting in her garage ready to go. The tile installer arrived at the same time Bob pulled up and then Ben arrived a few minutes later to grab a quick lunch. After they all chatted for a bit, Bob asked Nora for her drawings.
"Drawings?!" Nora thought. "What drawings?!"
Suddenly it dawned on her...Bob had told her about this weeks ago and she'd forgotten. The installer would need drawings showing what direction and pattern to lay the tile, which finishing pieces to use for the edges, what sort of design pattern or accent tile she wanted, which tile to put in the niches, the color of the grout, specifics on the shower threshold, and what kind of glass she'd be choosing. These were all decisions she was supposed to have made, and she'd blown it. Nora was so embarrassed, she wasn't even sure what to say.
"Nora," Bob said gently. "How about we press pause on your bathroom for a week or so, and I schedule one of our designers to come visit with you and help you come up with a plan. Would that be ok?" Nora nodded in agreement and after everyone left, she did the only reasonable thing. Grabbed her cookie dough from the freezer and sat feeling very embarrassed and extremely sorry for herself.
Later that week, Nora and Ben sat down with Bob's recommended designer, Lizzy. She agreed to work with them on an hourly basis to get their tile drawings and final selections ironed out and over to Bob so the job could finish up smoothly.
Nora met with Lizzy a couple of times and she was immediately amazed at how organized Lizzy was. She came up with a beautiful tile design, using the material Nora had chosen, and her drawing was detailed and precise. She walked Nora through all the remaining selections Bob would need so there would be no more surprises, and they were able to get everything on paper.
Over dinner Friday night, Nora gushed to Ben about how much fun it was to work with Lizzy.
"She has such great ideas! And she really listens to what I'm wanting. I feel like this remodel is actually fun again! And guess what? She even saved us several thousand dollars because of some sources she had that are designers only!"
Ben smiled at his wife, glad to see her happy. He decided not to remind her that he had wanted a Designer all along. Instead, they clinked glasses and toasted Designer Lizzy and Bob the Builder who together were making their new bathroom a reality.
A few years later, when Nora was ready to remodel their kitchen, she called Bob to let him know what changes they were planning and to see when she could get on his schedule. "Nora?," Bob said hesitantly, "were you planning to work with Lizzy on the design or are you doing it yourself again?" Nora laughed loudly into the phone. "Don't worry Bob! I've already called her!"